London – 18 May 2023: The current 'perfect storm' of increases in household bills, mortgage/rent payments and inflation have caused the cost of living crisis that is affecting millions of UK households, leaving finance companies, mortgage lenders, utility suppliers, local authorities and others struggling to collect payments. This has put credit management, collections and other teams (whether in-house or outsourced) under growing pressure to undertake Income & Expenditure (I&E) reviews and agree resolutions/payment plans with ever-increasing volumes of customers, while observing TCF and vulnerable customer obligations, with the FCA's more stringent Customer Duty regulations around the corner.

Enter stage left… the award-winning 'Budgie' smart assistant solution from Inicio.ai, which has been further enhanced and streamlined by the integration of WhenFresh data.

Budgie is an AI-driven, chatty assistant which can carry out customer I&Es at scale, for a fraction of the cost of a live agent. The Budgie assistant is now able to pre-answer (and validate) responses to key questions such as monthly rent/mortgage, energy bills and council tax outgoings in real time by pulling in WhenFresh data via API, thereby ensuring more accurate and frictionless results than ever before, to ultimately achieve better customer outcomes.

As part of the solution, WhenFresh is also able to monitor the book for real-time market activity, flagging customer properties as they come onto the sale or rental market, to trigger I&E reviews where changes in circumstances are imminent, identifying potential flight-risks and leveraging Budgie to capture new addresses and contact details.

Rachel Curtis, CEO of Inicio AI commented: "This is a really powerful partnership for us – our business clients want a way to complete an affordability assessment that is painless, accurate and auditable and we can deliver just that. For end consumers it provides a helping hand to complete a process they can find intimidating and embarrassing, at a time and place that suits them".

Paul Rout, Senior Vice President at WhenFresh, said: "The UK's leading home insurers, mortgage lenders and disruptors to the market see the significant value of the insight we provide in their lending decisions and insurance quotes. We also recognise the potential of these residential property data assets in the management of debt, and their specific role in timely and appropriate engagement."

"Combining property data with traditional debt management data assets and processes creates powerful insights into debtors' circumstances, leading to better, more affordable outcomes, in a cost-effective way, a process which Inicio.ai are very well placed to do."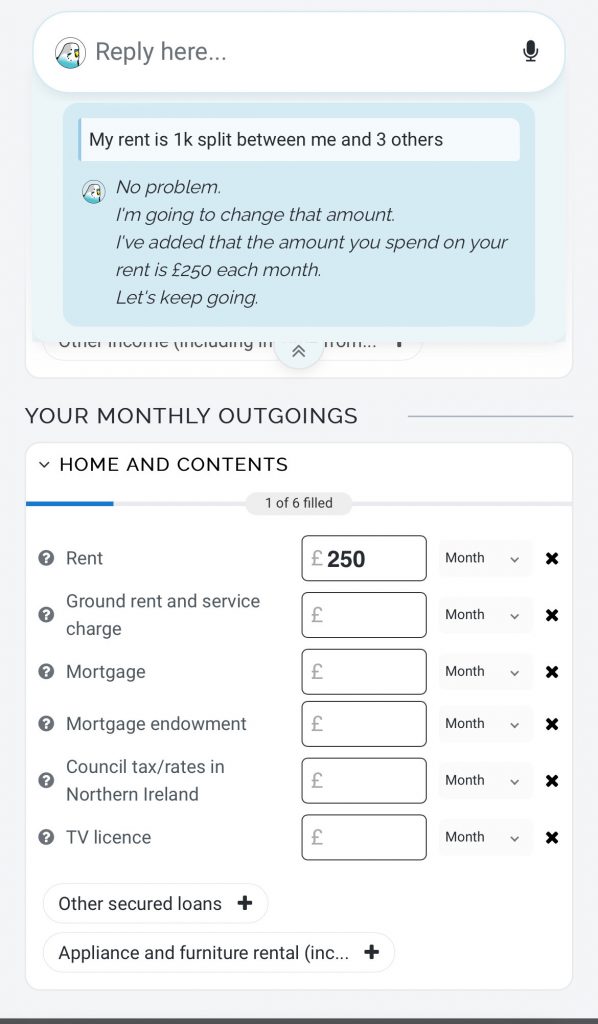 About Inicio.ai
Inicio.ai have created a unique AI agent that logs income and expenditure items from chat in real-time, answers questions and even fills in the I&E form, removing the burden of live calls, supervision and QA.
They use next generation conversational AI to deliver the experience and support of dealing with a human, but enables those in debt to avoid speaking to another person as this causes shame and is therefore something they avoid. Instead of agents spending over 30 minutes on the phone going over sensitive details sometimes requiring multiple different calls.

This is a simple and stress-free alternative and releases the agent to concentrate on more complex cases and vulnerable customers. Their multi-tenant, API-enabled SaaS platform offers instant on-boarding of clients with flexible integration options, using a simple interface that understands natural language 24×7.
This empathetic, supportive approach facilitates improved engagement and helps borrowers break free of debt into a brighter future.

About WhenFresh
WhenFresh ( www.WhenFresh.com ) is a leading supplier of data to the UK Financial Services, Local Authority, Utilities and other sectors and has established itself as the UK's Residential Property Data Bureau, by bringing together over 200 proprietary, private and public UK data sources in one place.

WhenFresh creates bespoke data-driven decision engines and Apps, as well as supplying 'ingredients' including property attribute, risk, peril, topological, geospatial, environmental, climate, market and valuations data to its clients for a wide range of applications.