Are you a home insurance marketing, data or innovation specialist?  Then please claim your free ticket for the WhenFresh event on the morning of Tuesday 25th June 2019 in the City of London:
How to deliver Insurance quotes from just one question: "What is the address?"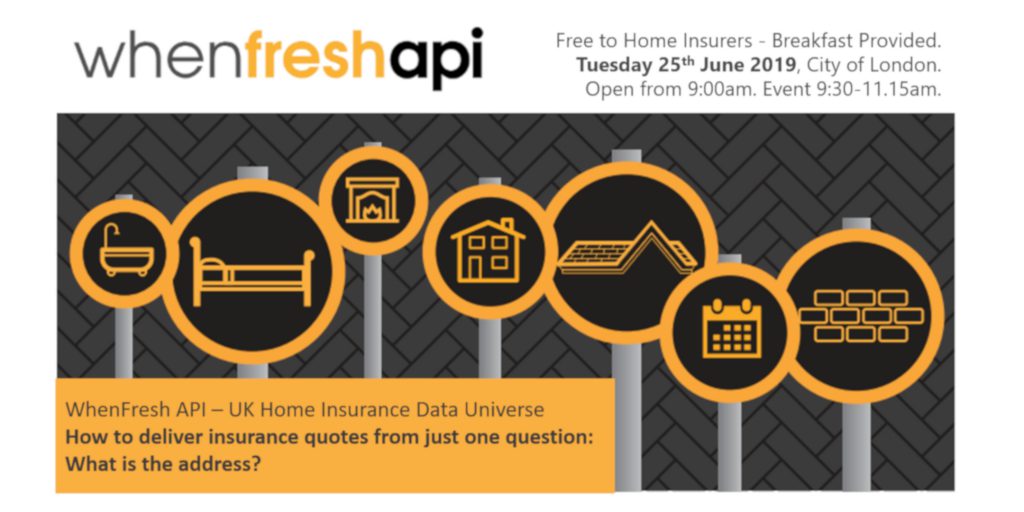 You'll hear from – and meet – senior speakers from many of the key suppliers of Residential Property, Risk, Peril and Environmental data for home insurers in one fell swoop. Plus it turns out there is such a thing as a free breakfast!
Hosted by WhenFresh at the CLS St Paul's House offices (Just off Paternoster Square, near St Pauls & Bank tube), doors open at 9:00am for breakfast snacks & hot/cold drinks, followed by a series of short, insightful presentations between 9:30am-10:45am from WhenFresh, Zoopla, Airbus, CLS Risk, Terrafirma, Fusion Data Science, BlueSky & Cranfield – with both product and technical/API integration streams.  There'll be time to meet the speakers afterwards and we aim to wrap-up by 11.15am.
Places are limited so, for full details and to reserve your ticket, please book now via the EventBrite app  or email david.morley@whenfresh.com for further details.
We look forward to seeing you!
Market-leading Data as a Service (DaaS) InsurTech WhenFresh today announced a major move direct into the Insurance sector following successful series A funding.
WhenFresh leads DaaS in other sectors, including Financial Services, Utilities, and Property. Bringing data together from over 200 private and public UK data sources into one place, WhenFresh offers a live, verified, fully-provenanced database of unrivalled breadth and depth.
In recent years, many of the UK's businesses have benefitted from WhenFresh's big data solutions, which have often formed a key part of wider solutions delivered to end users via resellers and partners such as Experian, Equifax, Zoopla, CLS Risk, Royal Mail Data Services, TransUnion, and others.
WhenFresh successfully secured £3m Series A funding to support accelerated product development and continued expansion into its target markets, and is now laser-focused on working directly with the Insurance sector, as its next fast-growth market.
Commenting on the move, WhenFresh's CEO Mark Cunningham said: "Over the last few years we have built a great business, with a fantastic team of data scientists and data-driven marketeers, who have created ground breaking innovations to other sectors."
He added: "The insurance sector can now benefit from this, as WhenFresh's market-leading products, Home Insurance Prefill and the Behind the Bricks API, offer insurers the ability to win new business, reduce customer acquisition costs, target more profitable business, and renegotiate reinsurance costs by more accurately analysing portfolio risk."
Looking ahead, and building on other sector successes, WhenFresh's big data solutions are set to make a huge impact on the Insurance sector in 2019.
WhenFresh's Home Insurance Prefill is an off-the-shelf solution, which gives insurers 7 core characteristics on each of the 29.7m residential properties in the UK, for online form prefill and other insurance applications.
The Behind the Bricks API brings instant 'plug and play' access to over 2bn UK property-specific data items, with a unique, comprehensive set of risk and peril characteristics in addition to the core property data of which the Home Insurance Prefill product forms part.
WhenFresh is delighted to announce the appointment of specialist Insurance, Insurtech & FinTech PR agency NextGen Communications. David Morley, WhenFresh Director of Marketing & Business Development states "Many of the UK's major Financial Service & Insurance businesses have become major users of WhenFresh data and services in recent years – but without necessarily knowing it, as we have often been part of a wider solution provided by our resellers/partners, such as Experian, Equifax, Royal Mail etc.  We are now able to provide innovative and, in some cases, disruptive data-driven solutions direct to major end users, so we've brought in NextGen Communications to help accelerate our push into the Insurance/InsurTech space in which they specialise".
Simon Hayes, NextGen Communications' MD: "We're delighted to be working with WhenFresh and their Home Insurance Prefill solutions look set to make a huge impact in 2019.  We look forward to being part of their success story."
The new WhenFresh API "One-Stop Data Shop" for Insurance Prefill, Risk, Pricing, Claims Management and other applications is now available on a SELF-SERVICE basis at https://my.api.whenfresh.com

Here you can browse the current data catalogue, try out the Prefill demo, view technical documentation and set up an account (with just a name, email and self-created password) to integrate the API and start testing.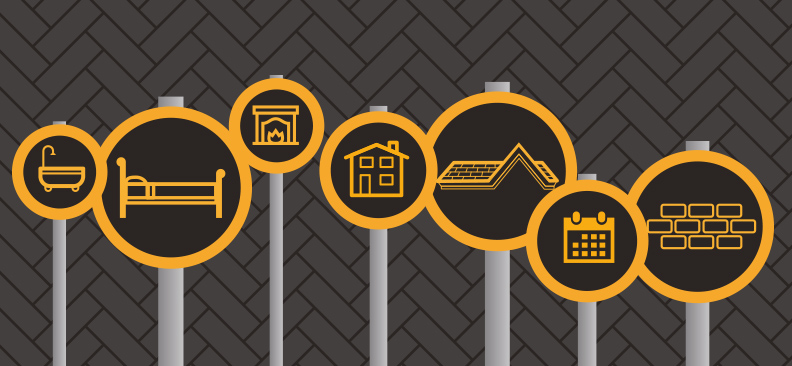 InsurTech News Q&A Feature with WhenFresh CEO and co-Founder Mark Cunningham, regarding BehindTheBricks, the new "One-Stop Data Shop" for UK Home Insurers:
"… In a sentence – you can take ANY form used in the insurance sign-up process or in the aggregator space and reduce the entire onboarding process around the property to one question:
Which address do you want to insure?  You do not need to ask any more questions.
We've spent years pulling together an unrivalled combination of over 200 high quality private and public data feeds, including Zoopla, Prime Location, uSwitch, CLS, Bluesky, Future Climate Index, Property Assure, you name it, all in one place…"  Read More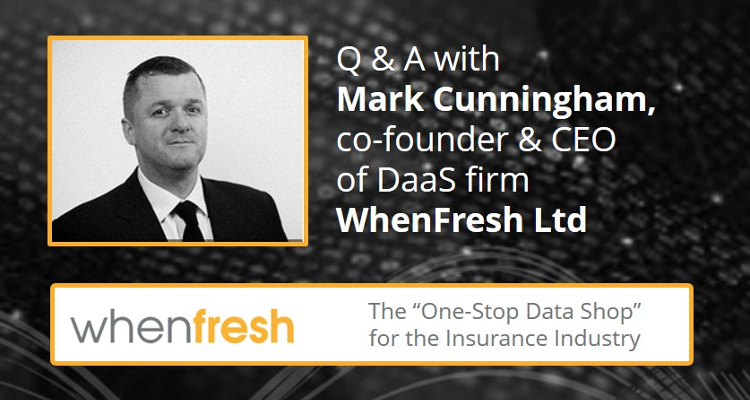 BehindTheBricks, the new API from WhenFresh, gives insurers access to over 2 billion UK property-specific data items to pre-fill insurance application forms & reduce abandonment.
WhenFresh Ltd, a leading provider of data-driven marketing services to large Insurance, Financial, Property & Retail organisations, launches the ground-breaking BehindTheBricks API(www.BehindTheBricksAPI.com). BehindTheBricks provides insurers and comparison sites/aggregators with real-time access to over 2 billion verified property-related data items, which can be pre-populated to insurance applications forms the moment a consumer enters an address. This includes common items to reduce consumer input, as well as more difficult answers (e.g. 'year built', 'proximity to tall trees', 'flood risk', etc…) to improve data quality, increase form completions and reduce abandonment.
WhenFresh CEO Mark Cunningham explains: "The UK Home Insurance market is of course massively competitive, with insurers and aggregators fighting to provide quotes to new movers, renewers & switchers, but they have to ask consumers to provide an awful lot of detailed, accurate information about the property they wish to insure. Long, complex insurance application forms lead to as many as 40-50% of applications not being accurately completed, which means abandoned forms, inefficient marketing spend and lost customers. BehindTheBricks tackles these issues by prepopulating home insurance applications with verified, property-specific answers the moment the applicant enters an address. This greatly reduces consumer input and makes the whole process of getting insurance quotes very much quicker and easier for the consumer, which improves the quantity and accuracy of completed applications and ultimately means a lot more business for insurers."
WhenFresh is delighted to announce the launch of the BehindTheBricks API website.
The site will give users an overview of the tool, and how it can help them access property information from across the UK.
Visit the website today by going to www.behindthebricksapi.com.
London-based DaaS firm WhenFresh has announced the closure of a £3m Series A round.
The round, fully subscribed by CLS Data Limited (part of the CLS Group), also drew support from a series of undisclosed investors from the InsurTech and FinTech sectors.
Co-founded by Alan Dean and Mark Cunningham, WhenFresh uses predictive customer analysis to help firms identify key life events that will trigger purchasing decisions.
WhenFresh claims it's proprietary algorithms are able to pinpoint exactly when customers are likely to spend more or dramatically less, thus giving customers advance notice of upcoming events.