January 2023 – Digital transformation leaders WNS have partnered with residential property data specialists WhenFresh to launch a new AI-driven omnichannel 'Quote & Buy' platform in the UK, enabling home insurers to deliver improved customer experience and reduced acquisition costs.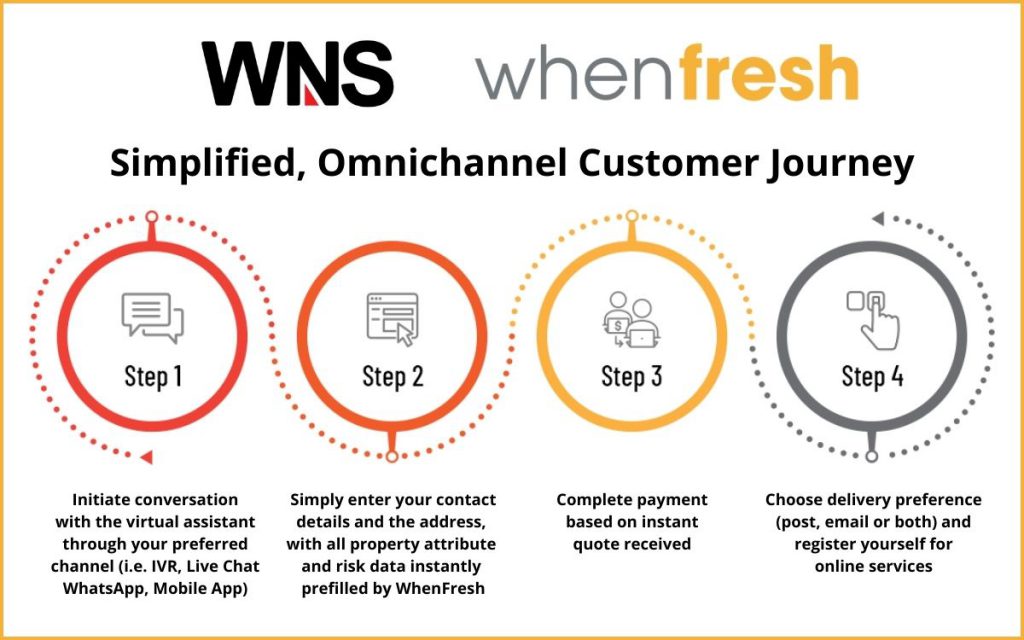 The home insurance market in the UK has become highly commoditised, with insurers increasingly reliant on customer experience (CX) to differentiate their offerings. An insurer's ability to make the customer's 'quote & buy' journey as easy and painless as possible is often the key to winning and retaining customers, improving conversion rates and reducing acquisition costs.

The new WNS HIFFI solution enables insurers to deliver a greatly improved customer experience by providing consumers with much faster, simpler home insurance quotes across a wide range of channels, including WhatsApp, Webchat, Mobile Apps and IVR (Interactive Voice Response).

To obtain an instant, accurate home insurance quote, the consumer need only provide basic personal details and the property address via their preferred channel – then all necessary property attribute and risk data is instantly fetched from the WhenFresh API 'behind the scenes' without further manual input. The consumer can then easily accept the quote, make payment and choose their policy delivery preferences within the platform.

The whole process is much shorter and simpler than traditional, long-form insurance quotes, and the platform employs Artificial Intelligence (AI) to understand user intent and either resolve consumer queries or escalate to a live agent when needed.

Mark Cunningham, CEO & co-Founder of WhenFresh states "We're delighted to be working with the WNS team and this is a perfect example of how digital transformation can be achieved by marrying cutting-edge technologies and accurate data. WhenFresh is the UK's property data bureau, and our data already powers reduced question-sets for many leading insurers, but the WNS HIFFI solution adds the extra dimension of working across so many different channels to make the frankly rather dull process of obtaining home insurance simpler, faster and even more accessible than before."

Whilst the customer only needs to provide a few basic contact details and the property address, HIFFI draws on over 30 property and risk attributes from WhenFresh via API, so the underwriting risk selection process is based on a comprehensive, robust dataset. HIFFI is also fully customisable and is an easily integrated, API-based plug and play solution for leading tech and underwriting platforms.

To find out more and arrange a demo, please contact WhenFresh or visit the WNS website.
---
About WNS (www.wns.com)
WNS is a global business, specialising in driving digital transformation for its clients across multiple sectors. In the insurance space, WNS partner with more than 55 global insurers, re-insurers, brokers and InsurTech companies to accelerate digital transformation – annually managing 30 million+ claims transactions, claims spend worth USD 13 billion and underwriting transactions over worth over USD 10 million. Our deep industry knowledge, leading-edge technology and analytical solutions, and integrated digital operating models help insurers scale faster and respond to changing market conditions. Our digital-first solutions improve risk mitigation, reduce indemnity spending, lower cost of service and enable superior customer experience.

About WhenFresh
WhenFresh is the UK's leading supplier of residential property data to Banks, Home Insurers, Utilities, The Public Sector and other Big Data users – including 8 of the top 10 UK banks and the Bank of England. WhenFresh combines its own proprietary datasets with 100s of best-in-class private and public data sources in one place to create the UK's "Residential Property Data Supermarket". Via a single, simple integration, the WhenFresh API provides users with instant access individual, address-level property attribute, risk, peril, topological, geospatial, environmental, climate, market movement, ownership, title and remote valuations data, on a pay-as-you-go basis. In addition to providing raw data items, WhenFresh provides develops tailor-made, data-driven decisioning solutions and Apps for its clients and was awarded Data Enabling Solution of the Year at the DataIQ Awards 2021, as well as featuring prominently in several prestigious Top 50/Top 100 InsurTech & FinTech reports.