Congratulations to all DataIQ Awards 2021 winners & finalists!
The team here at WhenFresh are enormously pleased and proud to have won the Data Enabling Solution of the Year at the prestigious DataIQ Awards 2021!

The great and the good of the data industry dusted down their long-unused black ties and posh frocks for the lavish "in person" gala dinner on 30th September 2021, at 8 Northumberland Avenue, London.

The DataIQ Awards honours both companies and individuals that have demonstrated excellence in the data industry over the past 12 months. Now in its 9th year, there were 26 awards across five focus areas recognising great work, people and teams. WhenFresh had been named as one of 5 finalists in the "Innovation: Data Enabling Solution of the Year" (Data Enabler) category and the illustrious cross-industry panel of judges – including senior representatives from Lloyds of London, Aviva, AXA PPP, Santander and Natwest, among others – were sufficiently impressed to select WhenFresh as winners.

WhenFresh CEO & Co-Founder, Mark Cunningham (pictured below, receiving the award), says: "A huge thanks to DataIQ and of course to the esteemed panel of Judges! It's always great to have your work publicly recognised by your customers and peers, so I'm delighted to accept this innovation award on behalf of the hugely smart & talented WhenFresh team. I'd also like to congratulate all the other winners and finalists – we're in truly exalted company!"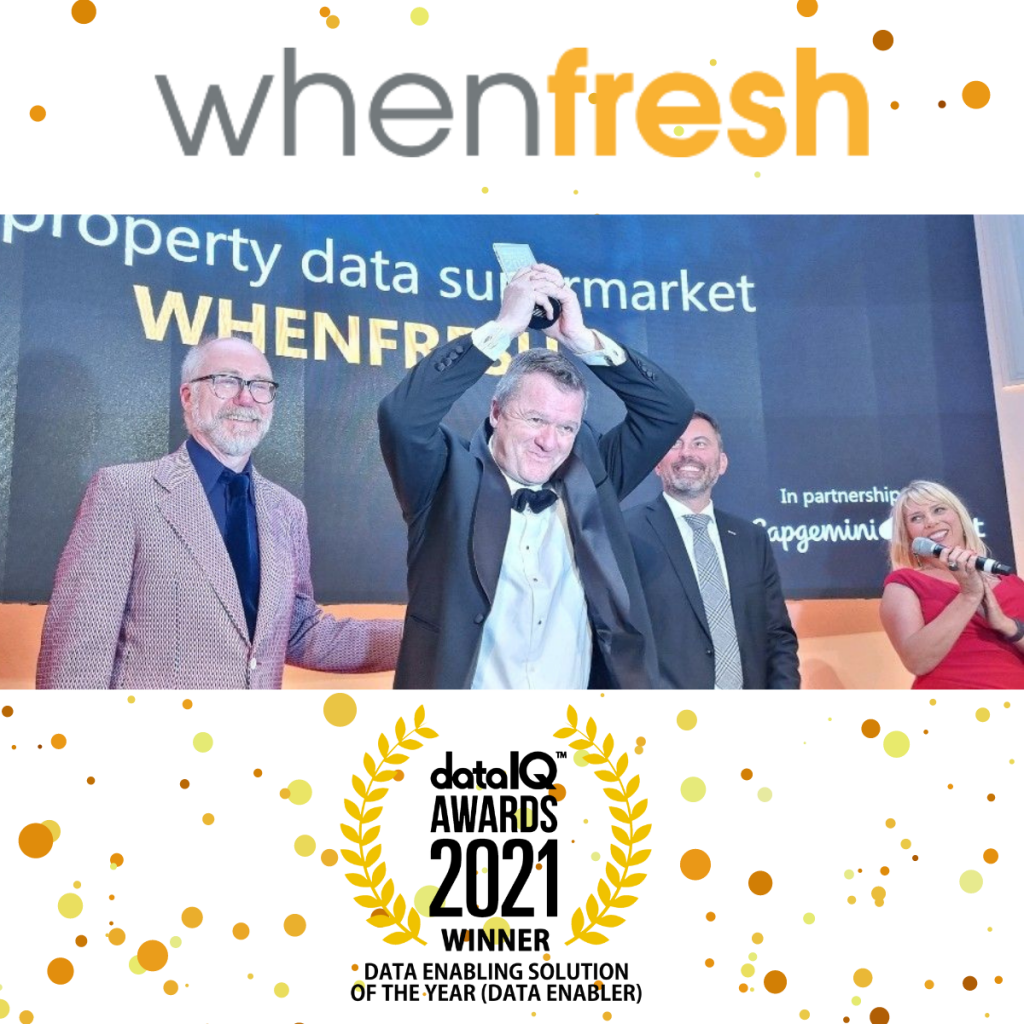 WhenFresh are UK Property data specialists providing a vast range of insurance data for virtually every residential property. WhenFresh is the UK's fastest growing property Data-as-a-Service (DaaS) company, combining over 200 proprietary, private and public UK data-sets with advanced analytics and easy API access.

Find out more here about the winners and finalists at the Data IQ Awards 2021
To find out more about WhenFresh, try the new "Mini-Demo" below to see a selection of some of the residential property data items that leading Insurers & Mortgage Lenders most commonly call from the WhenFresh API to support their automated decisioning. WhenFresh are able to supply these data items and many, many more for virtually every residential property in the UK.
---
To find out more about the property attribute, risk, peril, topological, geospatial, environmental, climate, market and valuations data now available via the WhenFresh API – the UK's Residential Property "Data Supermarket" – please call us on 020 7993 5818 or complete our short enquiry form.