Leading mortgage technology provider Twenty7Tec today announces that it has integrated with WhenFresh, the UK's leading provider of residential property data, enabling users of CloudTwenty7 to access property attribute data and valuations as part of the mortgage sourcing journey.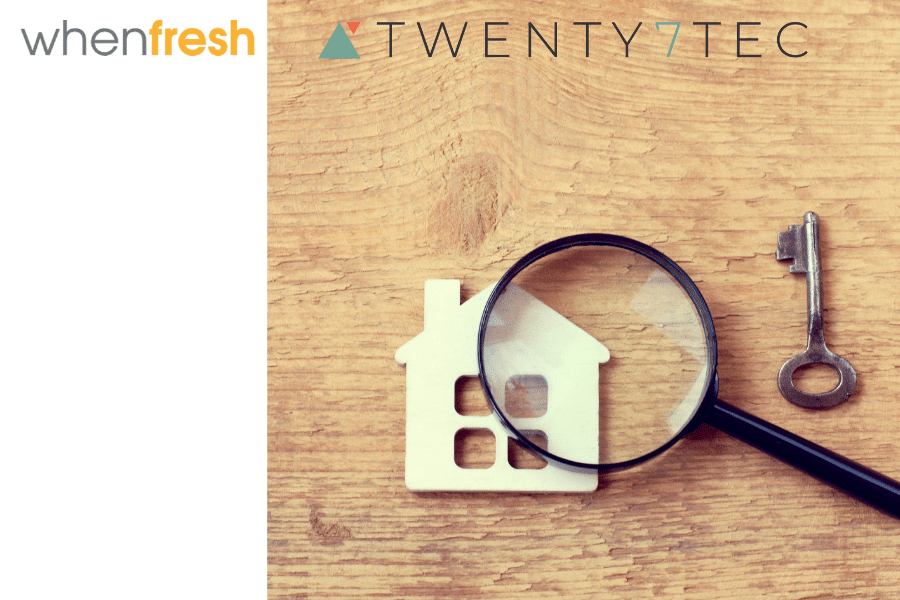 WhenFresh brings together over 200 proprietary, private and public datasets in one place to form the UK's residential property "data supermarket", covering virtually every property in the UK. WhenFresh data is used by 8 of the top 10 high street banks, the Bank of England and many leading insurers.
Property data from WhenFresh can now be automatically populated into the CloudTwenty7 platform. The data available includes property type, property style, property tenure, years left on lease, presence of flying freehold, number of floors, wall construction, roof construction, age of property and a property valuation range modelled by WhenFresh data scientists.
Where the proposed property valuation falls within the property valuation range, it is highly likely that the property is transacting at the correct value and that the lender is likely to be able to proceed with an AVM rather than a full valuation, reducing costs and speeding up the application process for the client.
Phil Bailey, Sales Director at Twenty7Tec, noted: "Advisers will find that this solution means that they are instantly able to access key data about a property, helping them quickly select the most appropriate lender for their client. The valuation ranges provided by WhenFresh will also support advisers in understanding how realistic their clients are being on their assumed valuation, what the likely LTV for that loan is going to be and provide a strong indication of the extent to which the case is likely to pass easily via an AVM, as opposed to being referred for a physical survey."
James Tucker, CEO of Twenty7Tec said: "Our mission at Twenty7Tec is to make things easier for the customer, and for all others involved in the house buying process. This is a significant step forward in terms of making the process simpler, faster and more efficient. Advisers will no longer need to ask the customer for property details or estimated valuations as this will already be available to them inside our platform. In our experience, that time saved means advisers get to spend more time with their clients, giving them better, more tailored advice."
WhenFresh co-founder and CEO Mark Cunningham, added: "Whilst we already supply data to many of the banks, it's greatto see that selected WhenFresh property data will, for the first time, be put in the hands of 1000s of mortgage brokers while they process live applications via the Twenty7Tec platform.  It's exactly how WhenFresh property data should be used, in making the mortgage process faster, simpler and less expensive for all parties, so we're delighted to be supporting James and the excellent Twenty7Tec team to fulfil their vision."
About Twenty7Tec:
Twenty7Tec's CloudTwenty7 platform is designed to make the process of searching, applying for and obtaining a mortgage simpler, faster and more efficient. The platform is used by all participants in the mortgage market, from lenders to mortgage advisers, to comparison sites and even end customers.
About WhenFresh
WhenFresh is a leading supplier of residential property attribute, valuation, risk, peril, geospatial, environmental, climate and market data, primarily to the UK's financial services sector. WhenFresh combines its own proprietary data models with over 200 private and public UK datasets, all accessible via a single, simple API integration. Data applications include mortgage decisioning support, remote property valuations, insurance form prefill, insurance pricing and back-book/portfolio analysis.
---
To find out more about the property attribute, risk, peril, topological, geospatial, environmental, climate, market and valuations data now available via the WhenFresh API – the UK's Residential Property "Data Supermarket" – please call us on 020 7993 5818 or complete our short enquiry form.