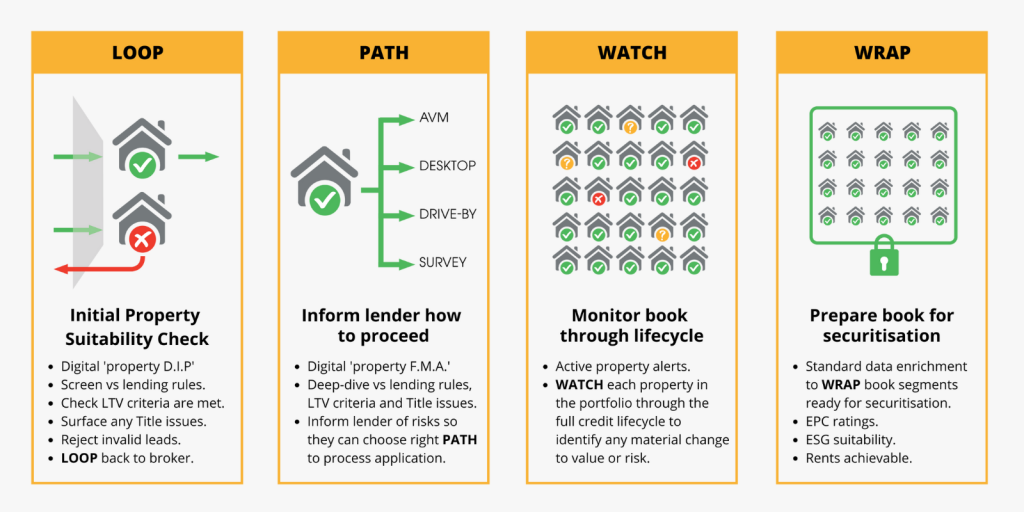 WhenFresh is the UK's Residential Property Data Bureau and provides Mortgage Lenders with instant access to all the data they need to make faster, better-informed decisions throughout the full mortgage lifecycle, from initial application tight through to securitisation.
WhenFresh Decisions-as-a-Service provides instant, remote property risk assessment – complementing the credit bureau services which assess consumer credit risk – and is delivered via a suite of 4 modules:
LOOP – Equivalent to a digital 'Property D.I.P.' whereby each new mortgage application is instantly and remotely screened against lending rules, LTV criteria and Title issues. Typically 5-10% of applications are rejected at this stage and 'loop' back to the broker/applicant(s), before the lender has invested money and resource processing applications which would fail at a later stage.
PATH – Equivalent to a digital 'Property F.M.A.' this deep-dive, data-driven triage evaluates the property, valuation and title to assess current/future risk and inform the lender which 'path' to choose. This separates the 60-80% of properties where an AVM will be sufficient to move to an immediate mortgage offer, from the 20-40% where a desktop, drive-by or full physical survey of the property will be required. 
WATCH – Live alerts across the portfolio to flag any issues which may impact each property's value or risk.
WRAP – Property data enrichment to prepare & segment a mortgage book for optimum securitisation.
Each module can quickly and easily be tested against any lenders existing processes – so please click here to find out more and to book a call/demo.