London, 12 November 2021: As the COP26 summit in Glasgow draws to a close, property data specialists WhenFresh have announced a major extension to their climate change offering by making Ambiental's FloodScore™ Climate data suite available via its award-winning API.

Ambiental's FloodScore™ Climate enables the (re)insurance and banking sector to respond to the Bank of England's regulatory requirements and also general business future-proofing. It does this by providing individual property-level flood risk scores, both for the present day and the 2050s and 2080s, based on low, medium, and high emission scenarios as defined by UKCP18 (the UK Climate Projections).

The move follows the integration of Ambiental's FloodScore™ back in February, where each UK property is given a measure of the likelihood and severity of a flood hazard affecting it from fluvial, pluvial, and tidal sources.

The FloodScore™ Climate data provides the means for mortgage lenders, insurers, and other parties to assess current and future flood risk data for more accurate analysis of risk within existing portfolios, to meet both commercial needs and their regulatory obligations.

Rob Carling, Ambiental's Channel Sales Manager, said: "We are pleased to extend our partnership with WhenFresh by adding our FloodScore™ Climate dataset to their highly regarded API. "The demand from the financial sector for accurate data has increased significantly over the last few years," he continues. "We expect this trend to continue following the Bank of England's strategic focus on climate change risks, and new legislation coming into force from April 2022 that makes it mandatory for firms to disclose climate-related financial risks and opportunities."

Mark Cunningham, co-founder and CEO of WhenFresh adds: "It's a great step forward for us to have Ambiental's FloodScore™ Climate data alongside the ever-growing stable of property attribute, risk, peril, environmental, geospatial, topological, and valuation datasets we make available through the WhenFresh API.

"Our aim has always been to make best-in-class datasets such as this easily accessible to end users to remove the barriers to digital transformation – and we're seeing a solid increase in the use of climate and environmental data among insurers, banks, and other big data users, not least for regulatory reasons."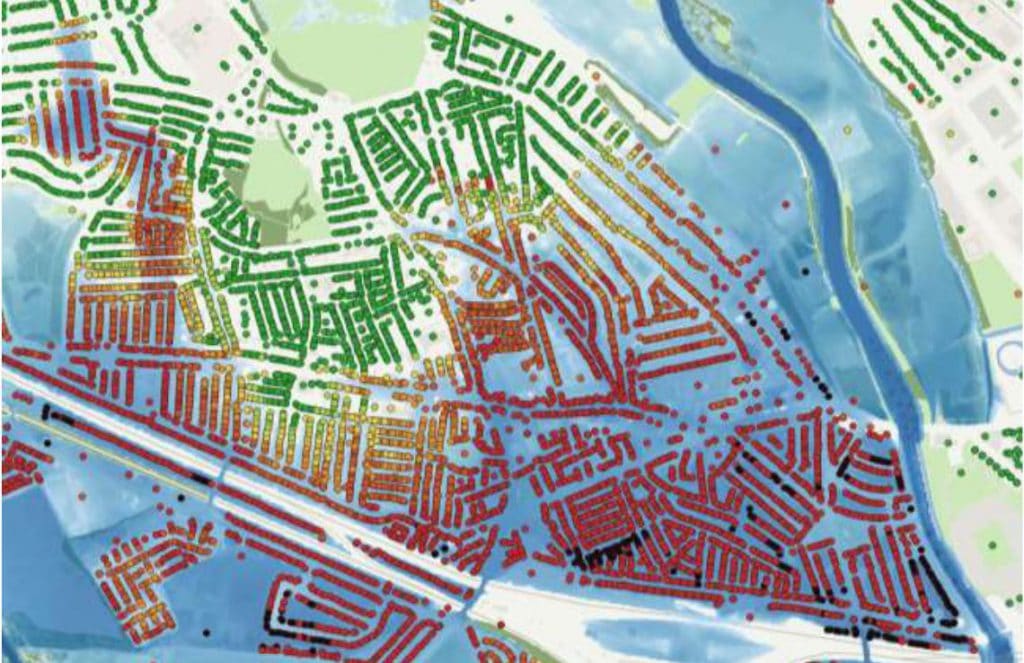 About WhenFresh

WhenFresh (www.WhenFresh.com) is a leading supplier of data to UK Lenders, Insurers, and other Big Data users, and provides the UK's Residential Property 'Data Supermarket', which brings together over 200 proprietary, private, and public UK data sources in one place.

Via a single, simple integration, the WhenFresh API provides users with instant access over 2tn data items, including property attribute, risk, peril, topological, geospatial, environmental, climate, market, and valuations data, on a pay-as-you-go basis.

WhenFresh were awarded 'Data Enabling Solution' of the Year at the DataIQ Awards 2021 and feature prominently in a number of prestigious 'Top 100' InsurTech reports.

About Ambiental Risk Analytics

Ambiental Risk Analytics, a company of Royal HaskoningDHV, is a global specialist in environmental hazard intelligence, predictive analytics, and risk management. Ambiental provides flood forecasting systems using flood modelling techniques that support better decision-making around flood and climate risk management by predicting the location and severity of flooding, preventing damage, and protecting people, property, and assets. It is Ambiental's belief that all people, property, and capital should be resilient to flooding and climate change risks. Ambiental was founded in 2002 and became part of Royal HaskoningDHV in 2019.