As Storm Christoph has just reminded us once again, accurate and predictive flood data has never been so important to UK Home Insurers. It is timely news therefore that WhenFresh has partnered with leading flood risk specialists Ambiental Risk Analytics (Ambiental) to make its flood data available via the UK's property 'Data Supermarket', the WhenFresh API.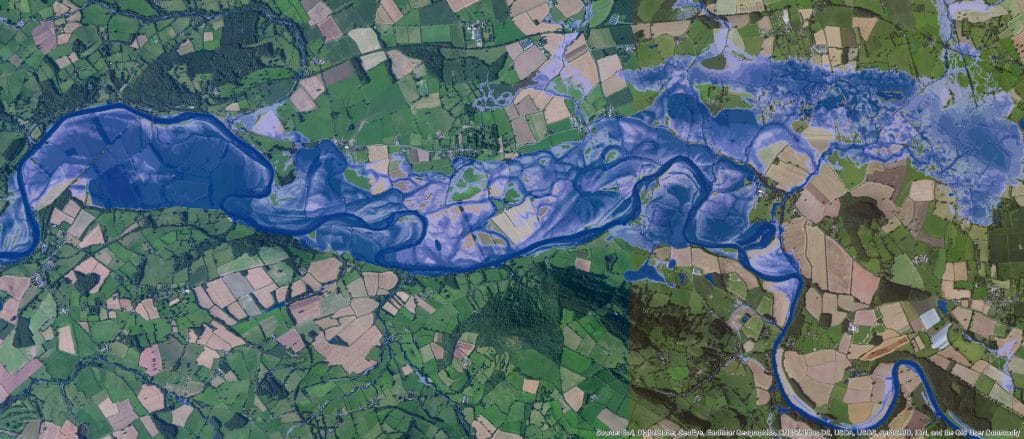 WhenFresh already supplies data to many of the UK's leading insurers and eight of the top ten banks. Ambiental, the specialist flood and climate analysis division of Royal HaskoningDHV, has developed its UK FloodMap™ and UK FloodScore™ solutions to provide insurers with detailed, highly accurate visualisations of potential flood risks across 100% of the UK.
This includes fluvial (rivers), tidal, and pluvial (flash flooding) risks, with flood depth and velocity information down to individual building level. Ambiental's models include 25% more rivers than any other flood data source.
Rob Carling, Ambiental's Channel Sales Manager says: "We employ best-in-class flood modelling technology and the highest resolution data available in UK FloodMap and FloodScore, providing insurers with clear, detailed, and easy-to-understand flood information for all major floodwater sources, down to individual building level for a range of return periods. Our flood data can be readily integrated with underwriting pricing systems and we've made it easy to combine vulnerability data and depth-to-damage curves to understand risk and estimate loss more accurately."
Carling continues: "Even if you've already got a source of flood data, our specialist flood mapping data layers can support your flood risk strategy by giving you a more accurate and complete view of flood perils. In the insurance and banking sectors, it is also used to assist in compliance, such as with Solvency II, and meeting best practice guidelines."
Leading data supplier WhenFresh has built the WhenFresh API as the UK's residential property 'data supermarket', as CEO Mark Cunningham explains: "The WhenFresh API provides insurers, lenders, and other 'big data' users with access to over 200 proprietary, private, and public data sources in standardised, readily-consumable formats, via a single, simple API integration.

"We've now assembled over 2tn data items in one place and can provide all the property attribute, topological, geospatial, environmental, risk, peril, valuations, market and climate data that insurers, lenders and other big data users need to support their underwriting, pricing, property valuations, mortgage decisioning and more.  The Ambiental flood data is an excellent addition to the range of data available via the WhenFresh API and makes this easily accessible both to existing and new end users," concludes Cunningham.

To find out more about the Ambiental Flood data and all the property attribute, risk, peril, topological, geospatial, environmental, climate, market and valuations data now available via the WhenFresh API, please click here or, to arrange an introductory call and/or demo: contact WhenFresh.