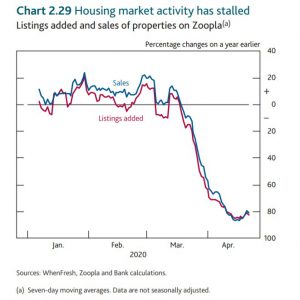 The Bank of England published its new Monetary Policy Report on 7th May 2020 – supported by WhenFresh data.
WhenFresh have worked with the Bank of England (BoE) for many years our data and analytics have featured in BoE research & White Papers on several previous occasions.
However, in the face of the lock-down due to the pandemic, we are privileged to have WhenFresh property movement data published in the BoE Monetary Policy Report, highlighting the sudden slowing of the housing market at this critical time. Please CLICK HERE to link direct to this section of the Report:
WhenFresh is a leading provider of residential property data & analytical services to the UK's leading Financial Institutions, Lenders and Insurers.  To find out how we can also help your business, please contact us today.