Nottingham, UK, 15 February 2022
● WhenFresh and Connected Data partnership will inject valuable property related insight into key processes to enable timely and more appropriate customer engagement

● WhenFresh, creators of the UK's 'residential property data bureau', is the latest leading UK data provider to partner with Connected Data

UK households are facing a 'cost of living' crisis and organisations across all sectors are preparing for record levels of debt. These organisations are striving to better understand where and when debt will occur, and to ensure they treat customers fairly whilst looking to resolve their arrears.

WhenFresh, an award-winning supplier of property data and related solutions to the UK's leading home insurers, mortgage lenders, public sector and other big data users, has partnered with data driven technology company, Connected Data, to provide a valuable dimension to the way debt is understood and managed by organisations in the UK.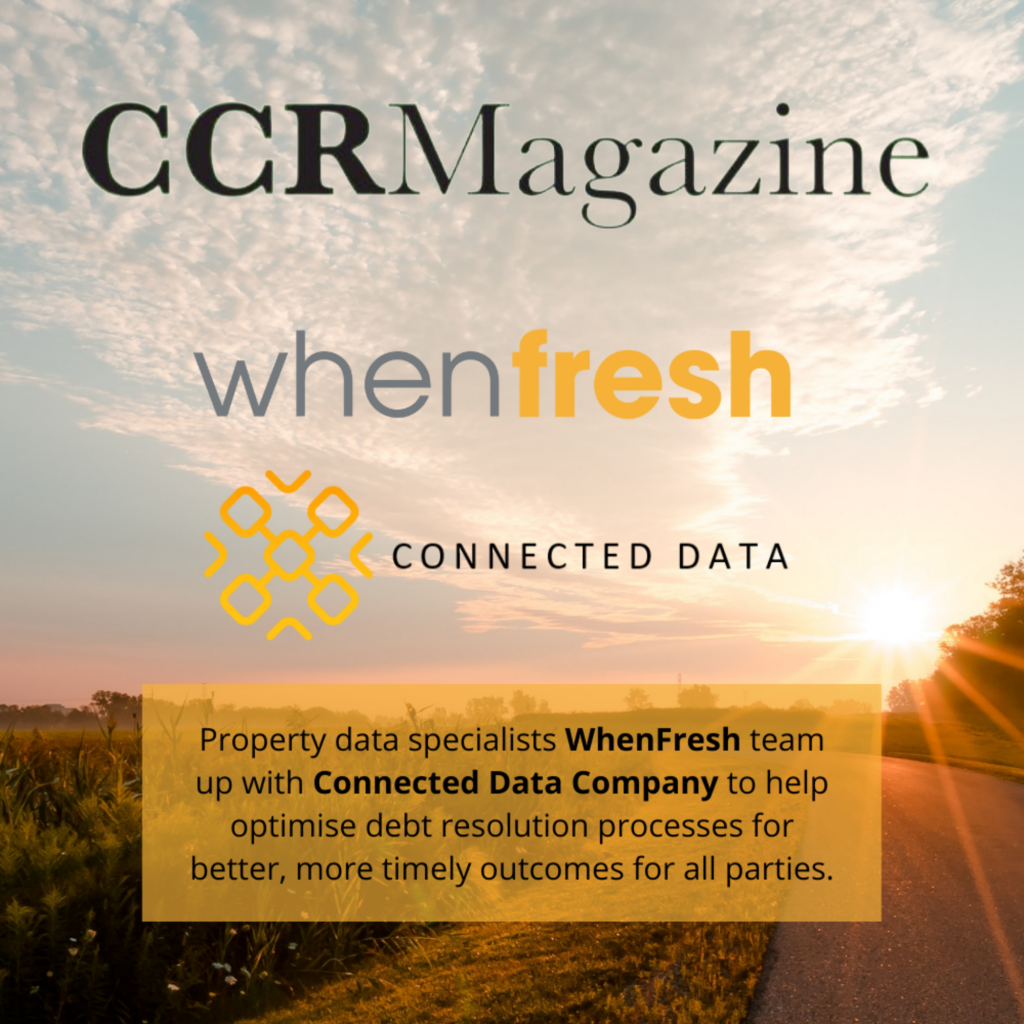 WhenFresh has created what it refers to as the UK's 'residential property data bureau' by combining over 200 proprietary, private and public UK datasets (e.g. residential property attributes, risk, peril, topological, geospatial, environmental, climate, market and remote valuations data) with advanced analytics, all in one place.

With the aim of achieving positive engagement and fairer outcomes for indebted customers, this exciting partnership will enable organisations to better understand an individual's circumstances and potential level of affordability through property related data. WhenFresh's address level insight will enhance the in-depth intelligence Connected Data already provides on individuals, powered by its relationship with several leading data providers.

Paul Rout, Senior Vice President at WhenFresh, said: "The UK's leading home insurers, mortgage lenders and disruptors to the market see the significant value of the insight we provide in their lending decisions and insurance quotes. We also recognise the potential of these residential property data assets in the management of debt, and their specific role in timely and appropriate engagement. Combining property data with traditional debt management data assets creates powerful insights into debtors' circumstances, a process which Connected Data are very well placed to do.

"Connected Data is already disrupting the way UK organisations manage debt with a clear focus on ensuring positive outcomes for all parties. They were the natural choice for us as a partner and we are excited about the positive impact our partnership will have."

Kirk Fletcher, Founder and CEO of Connected Data, said: "Our goal is to enable organisations to engage with their customers in an informed way with as much relevant insight on their circumstances as possible. It will always enable a better conversation and a fairer debt journey for the customer, as well as optimise an organisation's processes.

"WhenFresh's data provides a new and vital element to an organisation's understanding of its customers' circumstances. And they have a clear mission to ensure the person at the end is treated fairly. We are delighted to be partnering with them."

As the latest data partner to work with Connected Data, the partnership with WhenFresh continues to highlight how the company is bringing innovation to the way organisations manage their debt portfolios. By integrating different datasets from multiple leading data providers, not only is Connected Data enabling organisations to achieve the most in-depth insight possible, but it is removing 'data noise' – a significant barrier for organisations seeking to better understand and connect with their customers.

Read more at CCR Magazine

About Connected Data
Connected Data transforms an organisation's insight across its debt management process, simplifying the deployment of predictive data, removing data noise and identifying opportunities to prevent and reduce debt across its organisation. Connected Data works in partnership with UK leading data solutions providers to truly data enable debt management processes.

About WhenFresh
WhenFresh is a leading supplier of data to Financial Service sector, public sector and other Big Data users, including 8 of the top 10 UK banks and the Bank of England. WhenFresh has built the UK's "Residential Property Data Bureau", by bringing together over 200 proprietary, private and public UK data sources in one place. Via a single, simple integration, the WhenFresh API provides users with instant access property attribute, risk, peril, topological, geospatial, environmental, climate, market movement, ownership and remote valuations data, on a pay-as-you-go basis. WhenFresh were awarded Data Enabling Solution of the Year at the DataIQ Awards 2021 and feature prominently in a number of prestigious "Top 100" FinTech and InsurTech reports.