BehindTheBricks API is a the revolutionary new "one-stop shop" which provides unprecedented access to WhenFresh's unique pool of over 200 private and public datasets, providing data for Insurance Form Pre-fill, Risk, Claims Management & related applications.
BehindTheBricks has been designed to be fully Accessible, Flexible and Customisable, with the following key features & benefits:
>  BehindTheBricks is API-based, giving instant access to over 2bn UK data items.
>  Unparalleled breadth & depth of UK residential property-specific data, plus RISK & PERILS packs.
>  Pay as you go, only for the data you need. No up-front licensing fees.
>  Easily tailored to your data schema – you choose the data you want and how you consume it.
>  Simple, plug-and-play integration via .NET NuGet.
>  Fully GDPR-compliant, provenanced, accurate & current data for insurance applications.
BehindTheBricks is ideal for Insurance Form Pre-Fill by making it easier and more accurate, both for you and for the millions of potential new or renewing customers across the UK. From a single, residential UK address, we're able to instantly pull down the insurance information of your choice from 100s of verified variables, all packaged up to integrate seamlessly with your own systems in any format you prefer.
By pre-filling your forms and reducing consumer input, you'll get fewer abandonments and a greater quantity and better quality of completed applications.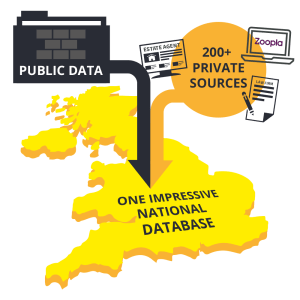 By identifying and hierarchically combining data from public sources and crucially, over 200 private sources, we've been able to build the most comprehensive and non-modelled UK residential property database. The Single Property View – which lies at the heart of BehindTheBricks.
In addition to individual property-specific data, the BehindTheBricks API also offers you a uniquely comprehensive set of RISK & PERILS characteristics, for Risk, Pricing & Claims Management applications, including:
> Fire, lightning, explosion and earthquake
> Falling trees or branches
> Theft or attempted theft
> Subsidence, ground heave or landslip
> Falling TV/radio-receiving aerials, fittings & masts
> Storm and flood
> Escape of water or oil
> Collision impact
> Riot, civil commotion, strikes, labour or political disturbances, malicious damage or vandalism.
To find out more about WhenFresh data for Insurance and to book your demo today, please call us on 0202 993 5818, visit the www.behindthebricksapi.com website or complete the short enquiry form.