The WhenFresh API is a the UK's 'Residential Property Data Supermarket' providing Banks, Insurers and other Big Data users with direct access to WhenFresh's unique pool of over 200 private and public datasets, with individual property-level attribute, risk, perils, environmental, geospatial, climate change, listings and valuations data for a wide range of applications.
Mortgage Decisioning Support
In the majority of cases, WhenFresh are now able to provide Banks, Surveyors or Valuers with all necessary physical, geospatial, environmental, risk/peril, valuations and climate-related data without the need for an actual visit to the property being transacted.  In addition to the obvious benefits in lowering costs and speeding up the mortgage-decisioning process, reducing unnecessary journeys and home visits by Surveyors & Valuers is an important consideration in these troubled times.
Insurance Form Prefill
The WhenFresh API has a wide range of Insurance applications and is ideal for Insurance Form Prefill for example, by making applying for a home insurance quote easier, faster and more accurate, both for you and for the millions of potential new or renewing customers across the UK.  From a single, residential UK address, we're able to instantly pull down the insurance information of your choice from 100s of verified variables, all packaged up to integrate seamlessly with your own systems in any format you prefer. By prefilling your forms and reducing consumer input, you'll get fewer abandonments and a greater quantity and better quality of completed applications and reduced acquisition costs.
The WhenFresh API
The WhenFresh API has been designed as a fully comprehensive, accessible and customisable source of data for a wide range of applications in Banking, Insurance and other industry sectors, with the following key features & benefits:
>  API-based, giving instant access to over 2bn UK data items.
>  Unparalleled breadth & depth of UK residential property attribute, risk, perils, environmental, geospatial, climate change & valuations data – at individual property level.
>  Pay as you go, only for the data you need. No up-front licensing fees.
>  Easily tailored to your data schema – you choose the data you want and how you consume it.
>  Simple, plug-and-play integration via .NET NuGet.
>  Fully GDPR-compliant, provenanced, accurate & current data for insurance applications.
Our new Demo site means you can now try it for yourself right now.  Simply set up a login with an email address and password, then look up any UK address to instantly see a selection of the data we can supply. Please click here to try it now.
Or click here to view the WhenFresh API site where you can browse the full current property data Catalogue.  The API has been set up to be very accessible, so your developers can also view technical documentation, integrate the API and start testing straight away.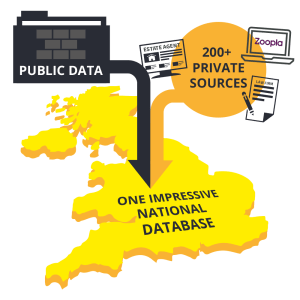 By identifying and hierarchically combining property data from public sources and crucially, over 200 private sources, we've been able to build the most comprehensive UK residential property database. The Single Property View – which lies at the heart of the WhenFresh API.
Alongside proprietary data from WhenFresh, the WhenFresh API provides access to data ingredients from key data partners including: ZPG (Zoopla Property Group), CLS, Airbus, JBA, BlueSky, Fusion Data Science, Cranfield, CityLets, OS MasterMap, Land Registry and many more – via a single, simple API integration.
To find out more about the WhenFresh API and to book your demo today, please call us on 0207 993 5818, or complete the short enquiry form.