The process of procuring accurate information on the location, financial situation, and key details of a debtor can be like stumbling around in the dark. The good news is that WhenFresh's unique data sets can shine a light on it for you.
Through the use of up-to-date and verified information, including the UK's largest home-mover database – Land Registry data – we can integrate seamlessly with your existing practices and assist you in three core areas. This will save you time and money, as well as helping to provide the best possible outcome for your customer.  Throughout the collections process, we offer three solutions designed to enhance, complement, and seamlessly integrate with your existing methods and systems.
Collections professionals are able to use as much or as little as you want of our offering. From our initial-stage residency and confirmation service, using bang-up-to-date home-move data, to our comprehensive API plugins for income, expenditure and property status, designed to assist you in providing satisfactory solutions and outcomes for all parties.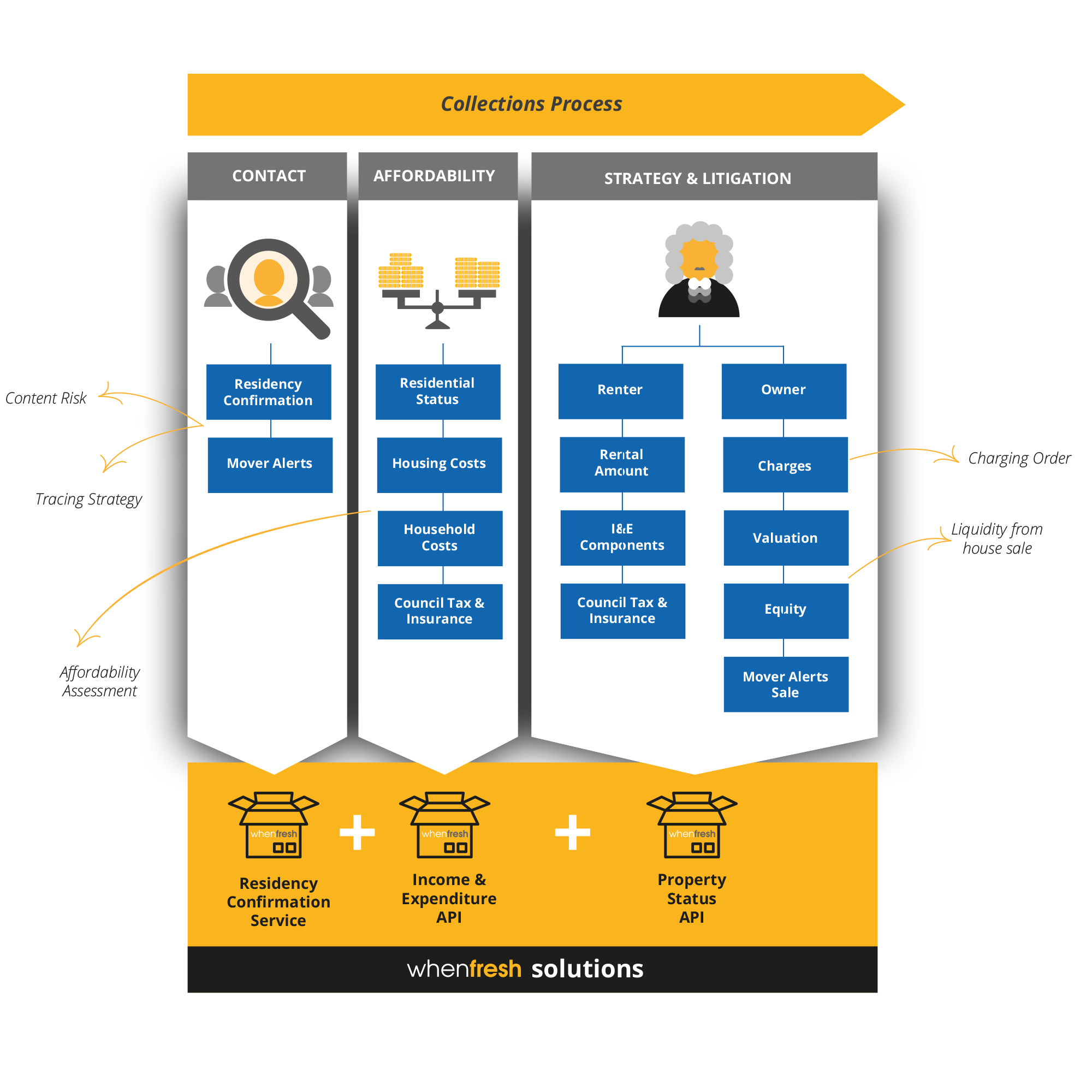 Contact Services
Knowing which debts are more likely to be settled, and therefore which accounts you should focus on first, allows for a much more efficient way of processing collections. Collector A ranks a book from most to least likely to be contactable, giving you a good idea of where you should expend your effort first. The data fed into the model is driven by proprietary data sets linked to the rapidity of turnover of occupancy at an address and the last observed change of occupant. If the debt has moved on then you will need to change your effort on collection.
The lowest hanging fruit is still attached to the tree. Collector A establishes which apples are still on the branch and which fruit you will need to look harder to find. The first step in collecting is knowing that a debt can in fact be collected. The book's Contactor score will tell you what's likely to be collected and what is going to be a lot harder to chase.
Income & Expenditure Services
Treating Customers Fairly (TCF), requires firms to be able to demonstrate that they are delivering fair outcomes to consumers. Obtaining accurate financial information from people in difficult debt-related situations can be a challenge. This is where we can help. We process millions of records at a household level. This allows us to calculate council bill payments, heating costs, water charges and insurances. We  also determine accurate rental and mortgage payments which are usually the most significant expenditure and are vital to a fair payment arrangement. By embedding our data into your Income and Expenditure  systems and processes, we can assist you in forming a much more accurate assessment, more quickly and easily, allowing customers to make repayments comfortably and on-time. Click here for more details of the WhenFresh Income & Expenditure piece.
Litigation Strategy Services
When legal proceedings become the only route left to take in recovering a debt, if the customer/debtor is a sole or joint owner of a property an application can be made to the courts for a Charging Order. We can offer a much more robust solution with deciding litigation strategy and execution through the use of our property movers and valuation.
WhenFresh Household Expenditure Data for I&E provides accurate consumer expenditure values for virtually every UK household, including rent/mortgage, electricity, gas, water, home insurance and Council tax.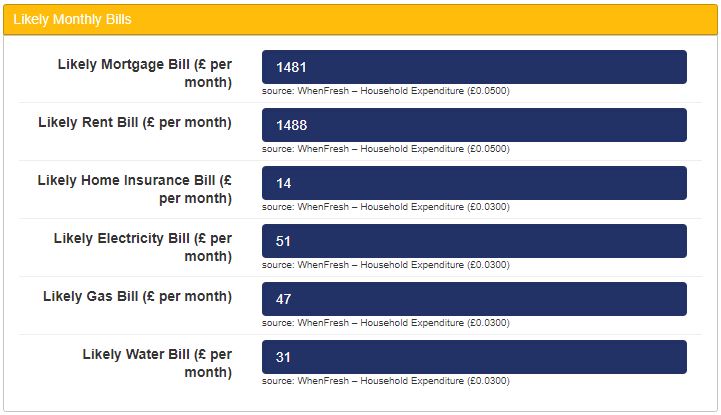 Household Expenditure data can be delivered instantly via API to complement and validate I&E information provided by consumers to help achieve affordable and sustainable repayment agreements and help achieve best practice in the eyes of Regulators.
Treating Customers Fairly (TCF), requires firms to be able to demonstrate that they are delivering fair outcomes to consumers consistently. Obtaining accurate expenditure and income information from people in difficult debt-related situations to ensure Fair Treatment can be a challenge, and of course, every case is different.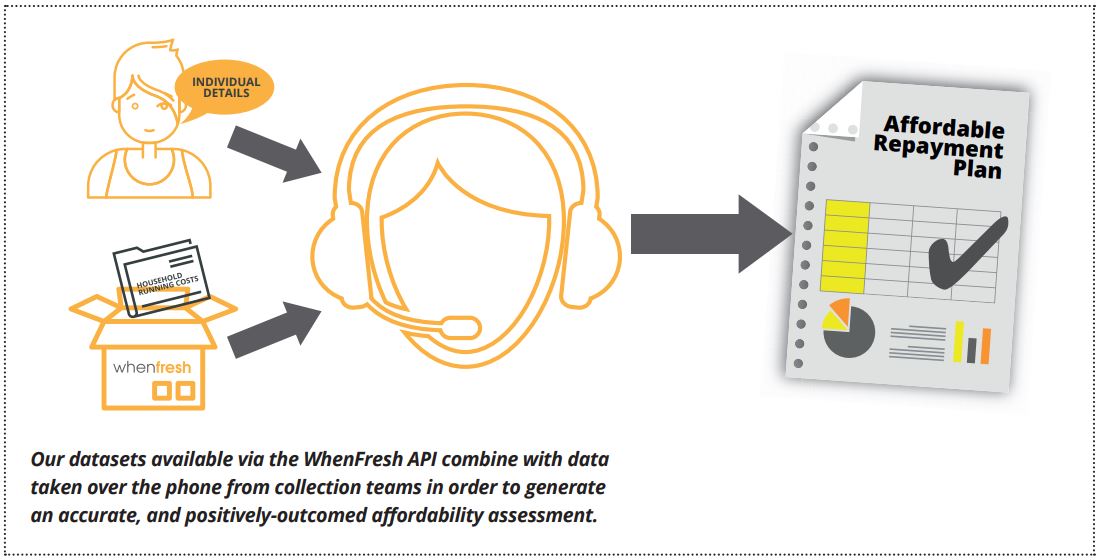 Those in vulnerable financial positions may find it difficult to provide the correct information required in completing an Income and Expenditure (I&E) assessment. This can mean they end up with an unfair payment arrangement or settlement based on inaccurate information. When I&E verification is carried out by phone, it can be a time-consuming and inadequate method for gaining valid data, particularly when recovery teams do not have the scale or infrastructure to undertake assessments efficiently or accurately. Even using online channels it is still a challenge for organisations to check and validate the information provided for accuracy.
Deficient data can cause frustration and unnecessary efforts for customers and can potentially lead to the worst possible outcome: a set of inappropriate payment arrangements, which in some cases may worsen a customer's financial situation.
We process millions of records at household level calculating council bill payments, heating costs, water charges and insurances. We also determine accurate rental and mortgage payments which are usually the most significant expenditure and so vital to a fair payment arrangement. These costs, used alongside other related expenditure, allows collections companies & organisations to assist the customer in forming a much more accurate assessment allowing them to make repayments comfortably and on-time.

The Responsible Lending Guidelines from the FCA encourage the use of third party data and the sharing of data directly between lenders for this validation process and is a process which Ofcom & Ofgem suggest telco and utility companies across the UK follow as best practice.
Embedding WhenFresh Expenditure Data for I&E into your systems and processes helps operators to assist (and validate) customer expenditure and budgeting in real time, which brings additional benefits to those organisations that are obliged to offer help to customers who have fallen into arrears. The FCA is clear that sound affordability assessments are required to demonstrate responsible lending & operating and a breach of the FCA Responsible Lending Guidelines can jeopardise a providers credit license.  For other non-regulated consumer-facing businesses, adopting the approach can result in better customer service and reduced reputational risk.
WhenFresh Expenditure Data for I&E is part of the full WhenFresh Collections Suite.
WhenFresh has built Home Insurance Prefill to give you 7 key characteristics for virtually every residential property in the UK for form prefill and other insurance applications.
WhenFresh Home Insurance Prefill includes the following key data attributes for over 29.7m residential properties across the UK:
>  Number of Bedrooms
>  Number of Bathrooms
>  Number of Reception Rooms
>  When Built
>  Property Type & Style
>  Roof Type
>  Wall Type & Materials
View and download full details of WhenFresh's Home Insurance Prefill here
WhenFresh has built Home Insurance Prefill to give you immediate  access to these 7 core characteristics so you can:
>  Make Insurance forms quicker and easier for consumers;
>  Reduce form abandonment;
>  Improve the quantity & quality of form completions;
>  Drive down your acquisition costs.
Home Insurance Prefill is available for immediate  delivery direct from the WhenFresh API (and from selected resellers) and provides fully comprehensive, individual responses for each of these 7 questions for a total of 29,716,224 residential properties, including, for example:

To find out more about Home Insurance Prefill, please call WhenFresh on 020 7993 5818 or complete the short enquiry form and we'll get straight back to you.
Want even more data?
By bringing together over 200 private & public UK data sources in one place – including Zoopla, Prime Location, uSwitch, CLS,  Bluesky, Future Climate Info, CET Structures, Land Registry and many more – WhenFresh provides an unrivalled range of standard & bespoke data products and services for the UK Insurance market.  We built Home Insurance Prefill with these 7 key data components after consultation with many of the UK's leading insurers but, if you need more, WhenFresh can give you instant access to 100s more property-related data items via the WhenFresh API 
The WhenFresh API is a the revolutionary new "one-stop data shop" which provides unprecedented access to WhenFresh's unique pool of over 200 private and public datasets, providing data for Insurance Form Prefill, Risk, Claims Management & related applications.
The WhenFresh API has been designed as a fully comprehensive, accessible and customisable source of data for insurance applications, with the following key features & benefits:
>  API-based, giving instant access to over 2bn UK data items.
>  Unparalleled breadth & depth of UK residential property-specific data, plus RISK & PERILS packs.
>  Pay as you go, only for the data you need. No up-front licensing fees.
>  Easily tailored to your data schema – you choose the data you want and how you consume it.
>  Simple, plug-and-play integration via .NET NuGet.
>  Fully GDPR-compliant, provenanced, accurate & current data for insurance applications.
Our new Demo site means you can now try it for yourself right now.  Simply set up a login with an email address and password, then look up any UK address to instantly see a selection of the data we can supply. Please click here to try it now.
Or click here to view the WhenFresh API site where you can browse the full current data Catalogue.  The API has been set up to be very accessible, so your developers can also view technical documentation, integrate the API and start testing straight away.
The WhenFresh API  is ideal for Insurance Form Prefill by making it easier and more accurate, both for you and for the millions of potential new or renewing customers across the UK. From a single, residential UK address, we're able to instantly pull down the insurance information of your choice from 100s of verified variables, all packaged up to integrate seamlessly with your own systems in any format you prefer.
By prefilling your forms and reducing consumer input, you'll get fewer abandonments and a greater quantity and better quality of completed applications.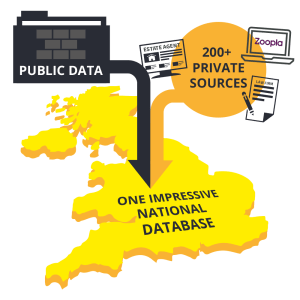 By identifying and hierarchically combining data from public sources and crucially, over 200 private sources, we've been able to build the most comprehensive and non-modelled UK residential property database. The Single Property View – which lies at the heart of the WhenFresh API.
In addition to individual property-specific data, the WhenFresh API also offers you a uniquely comprehensive set of RISK & PERILS characteristics, for Risk, Pricing & Claims Management applications, including:
> Fire, lightning, explosion and earthquake
> Falling trees or branches
> Theft or attempted theft
> Subsidence, ground heave or landslip
> Falling TV/radio-receiving aerials, fittings & masts
> Storm and flood
> Escape of water or oil
> Collision impact
> Riot, civil commotion, strikes, labour or political disturbances, malicious damage or vandalism.
To find out more about the WhenFresh API and to book your demo today, please call us on 0207 993 5818, or complete the short enquiry form.
As many as 50,000 people move home each week across the UK and, on average, home movers spend around £5,000 on goods and services directly relating to their move – which equates to a combined mover spend of around £35m/day.
Home Movers are BIG business, because moving home is the strongest possible trigger for a wide range of high value consumer buying decisions, including mortgages, insurance, furniture, white & brown goods, home improvements, energy, TV and broadband services… and more.  
So, knowing when your existing & potential customers are planning to move home – and precisely where in the moving process they are likely to make buying decisions regarding the services/products you sell, presents an enormous opportunity, both in terms of customer acquisition and retention.
WhenFresh can now tell you exactly who to target – and when
We've combined data from the Royal Mail's redirection service and Estate Agency data from Zoopla and other sources to create the UK's most comprehensive and accurate home mover database. Its updated live every day and, crucially, covers both house sale and rental moves.
By matching your historical customer/sales data to our past home move data and undertaking temporal analysis, we can identify patterns which pinpoint precisely when in the moving process your customers/prospects make buying decisions.
We can then provide you with daily, weekly or monthly updates on up to 200,000 home moves per month, so you can deliver offers to your customers & prospects at exactly the moment they are "in-market", to greatly improve the effectiveness and efficiency of your marketing.

Please call us today on 0207 993 5818, complete the enquiry form or view/download full details here to start building your own Right-Time Marketing Strategy.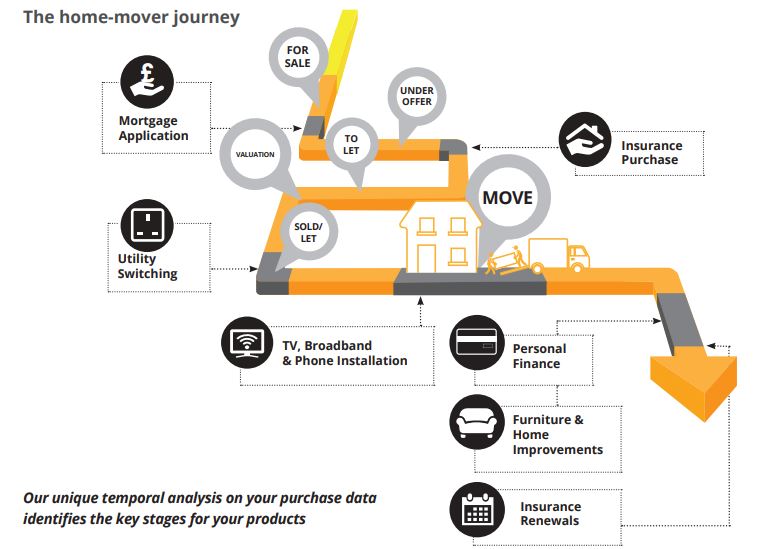 Home Movers are BIG BUSINESS, not just for Mortgage Lenders, but for the Property, Insurance, Utilities, Retail, Home Improvement and other sectors…
Across the UK, each of us will move at least 6 times in our lives and as many as 50,000 households move home each week.
At WhenFresh, we apply advanced analytics to our unrivalled data streams to identify key triggers which tell us which properties are likely to come on to the market and when – as well as those which aren't, because knowing what someone isn't doing is sometimes as important as knowing what they are doing.
WhenFresh's Not Yet On The Market product accurately predicts which properties will list and when, so you can target your acquisition & retention offers to reach the right people at the right time.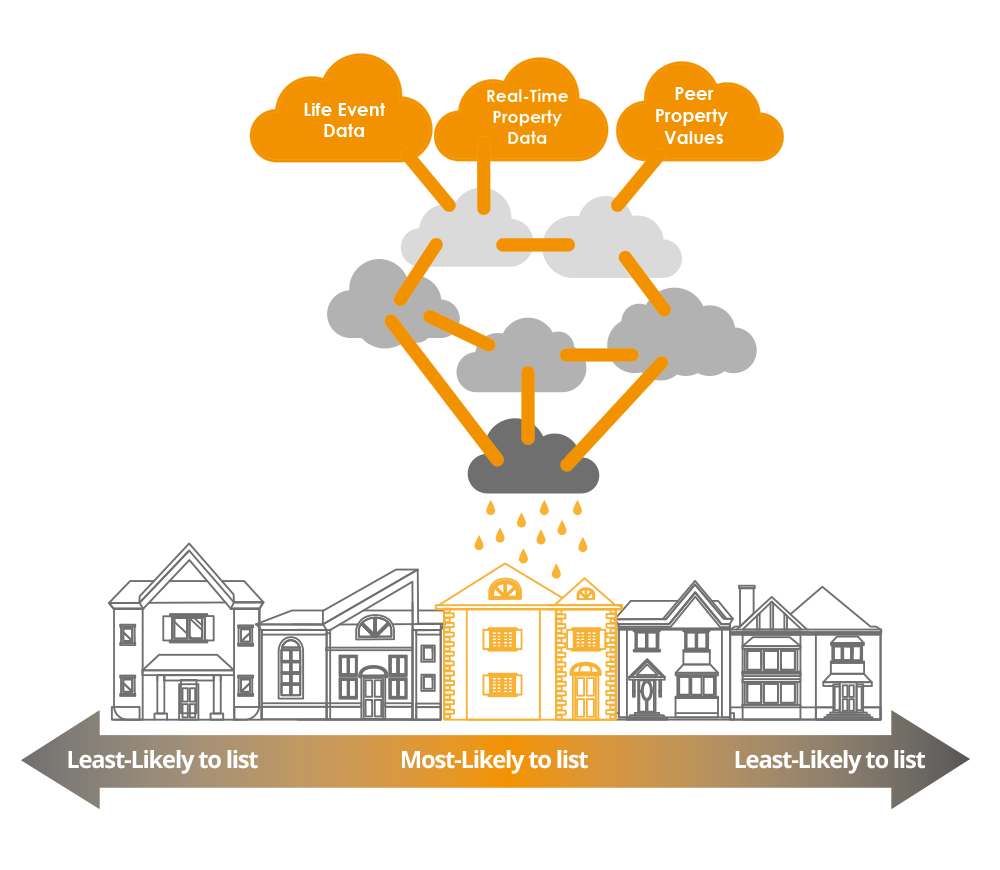 A Leading Energy Provider
With six million people moving home each year the impact of disconnection is extremely costly. A leading energy provider wanted to engage with customers before they moved – and WhenFresh Bespoke Data Analytics showed them how.
| | | |
| --- | --- | --- |
| 3 months before | Day of move | 3 months after |
We scored the company's customer data, identifying which customers were likely to move and, crucially, when.
The energy provider assessed our moments of intent insights against their business and marketing intelligence reports and modelled the potential incremental cost savings for retention strategies.
The results were so strong that event driven communications are now an essential component to the business's on-going CRM strategy.
Results:
30% increase in customer retention
50% reduction in cost to serve
3.5x return on investment
We apply this same methodology for banks, insurers, retailers, telecoms providers and more.
To get started building your own right time strategy by identifying customer intent before it happens, get in touch today.
Insurance buyers are an elusive bunch.

 

Just because an insurer is offering the best cover, great value for money or even a cuddly toy… it's very often not enough to stand out from the crowd. The key to it all is of course in knowing their Home Insurance Renewal Dates.
After all, for 11 months of the year, home insurance marketing is virtually invisible to over 90% of UK consumers.  (Unless they move home of course – but that's another story, which you can read here). However, for that one fleeting month of the year that their Home Insurance Renewal Dates come up and they are "in-market", Home Insurance buyers are all ears.
Happily, with an unrivalled pedigree for in-market intelligence built over years in the Property and Home Move sector, WhenFresh can tell you exactly which 300,000 or so households you should market to in any given month. View and download full details here.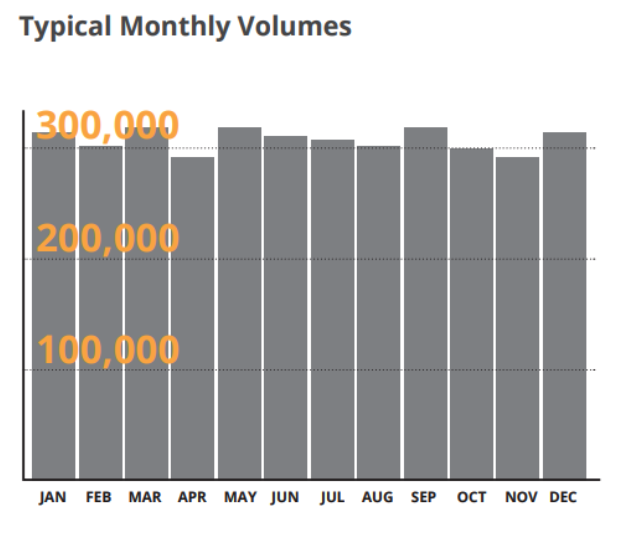 We know with great confidence who is in-market and when – because of all the validation, verification and analysis we do in the background that scores our intelligence across a mass of counter-checks.
We'll help you apply these key triggers across your acquisition and cross-selling strategies and help you shout your great insurance offers from the rooftops, but only to those people in the mood to listen.

As regulators such as the PRA and FCA tighten scrutiny on buy-to-let (BTL) mortgages, there is an increasing need for Lenders to understand the stability of customers' property portfolios across a range of market variables.
This is especially important when an individual's portfolio may be spread across a number of different lenders and a wide variety of properties, meaning that as a lender, you're only seeing part of the picture. WhenFresh Buy To Let Insights solve this problem and give you deeper insight than ever before, across the full portfolio.  Download full details of WhenFresh Buy To Let Insights here.
WhenFresh, we have the data and the experience in the property market to take a much closer look. The information we provide can enable you generate on-the-ball actionable measures to manage risk, as well as support strategy, insight and execution.
Our magic formula focuses on crunching the numbers on a combination of three core areas – asset stability, income stability, and regional stability – all of which when brought together can provide a much clearer picture of a BTL mortgage-holders' real situation, allowing for a more accurate risk assessment to be made.
Our Buy To Let Insights reports are built by analysing your customer portfolio data against nine key metrics, which are then in turn measured against comparable averages nationally.
This can also be enhanced by supplementary information provided by either your own organisation, or external credit agencies. It's a solid foundation on assessing real Buy-to-Let risk.