26 July 2022: Insurance data intelligence provider, Percayso Inform, today announces a new partnership with the UK's leading supplier of residential property data, WhenFresh, to support the further development of Percayso's property data capabilities for providers of household and SME insurance.
WhenFresh has combined its own proprietary datasets with hundreds of best-in-class private and public data sources in one place to create the UK's "Residential Property Data Supermarket" for the UK insurance industry, mortgage lenders and other Big Data users.
Ian Lilley, Head of Partnerships at Percayso, says: "As we extend our services into both the household and SME commercial space, we want to be able to provide not just data but also analytical intelligence to our customers. WhenFresh shares the same ethos. The WhenFresh API gives instant access to over two trillion property-specific data items and can instantly return all the property attribute, risk, perils environmental and valuations data an insurance provider needs.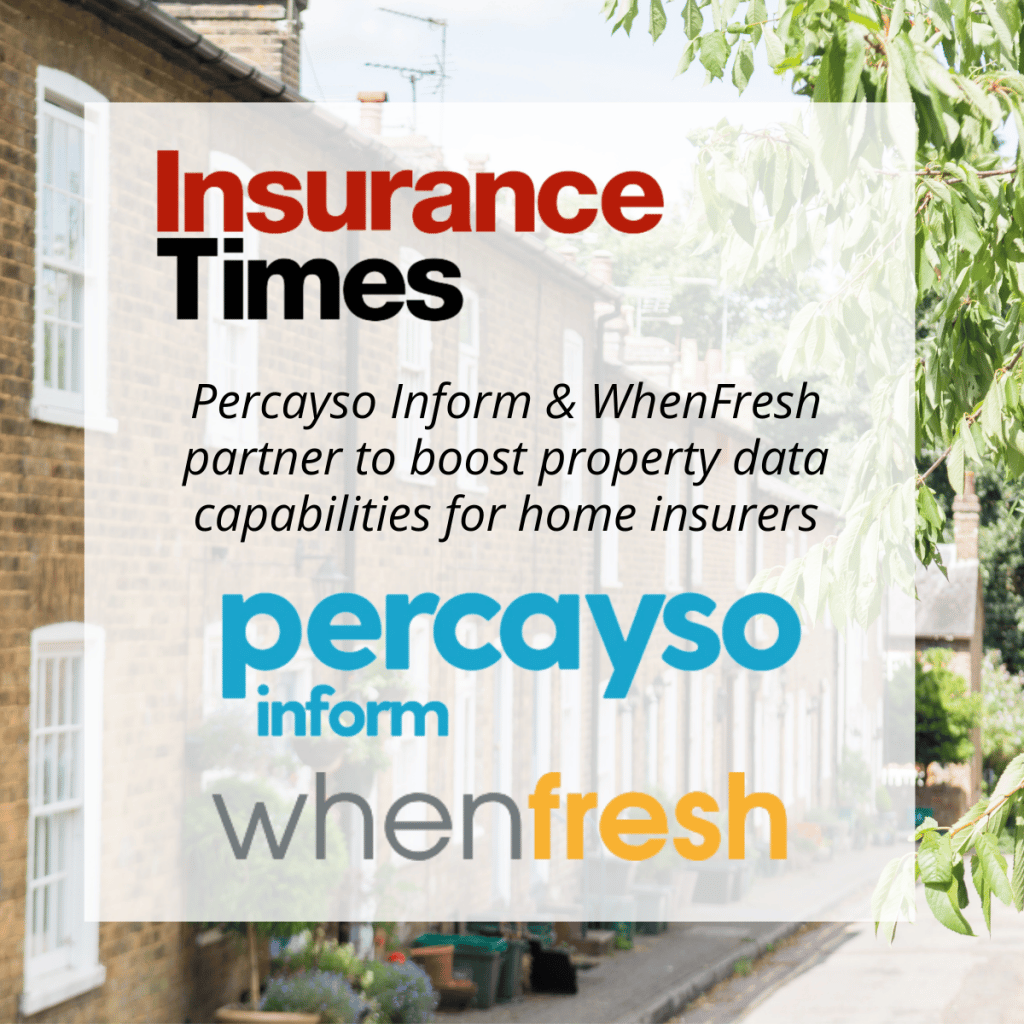 "There are a lot of synergies between our businesses. Like us, they're constantly looking to add new datasets to anticipate market demand, but more importantly are willing to share their vast experience and knowledge to help analyse and advise on bespoke customer datasets. They're more than purely a data supplier, rather a solutions provider. We're looking forward to building a long-lasting partnership."
WhenFresh CEO Mark Cunningham adds: "We're delighted to be working with Ian and the Percayso Inform team to support their growth in the home and SME insurance sectors – and we're sure our partnership will open some very interesting doors for both parties.  Like Percayso, WhenFresh is a data agnostic business, so we often hold a number of different brands of data in the same category… so the user can choose their preferred option and/or other brands to suit their needs, in whatever format they require.  
"Putting vast, readily accessible data assets, alongside the analytical capabilities and tools to deliver clear business improvements, into the hands of insurers, makes this a highly compelling proposition."

Read the full Insurance Times article here

About WhenFresh
WhenFresh is a leading supplier of residential property data to UK Insurers, Banks and other Big Data users. Combining its own proprietary datasets with 100s of best-in-class private and public data sources in one place, WhenFresh has created the UK's "Residential Property Data Supermarket". WhenFresh also develops tailor-made, data-driven decisioning solutions and Apps for its clients and was awarded Data Enabling Solution of the Year at the DataIQ Awards 2021, as well as featuring prominently in several prestigious Top 50/Top 100 InsurTech & FinTech reports.

About Percayso Inform
Percayso Inform's insurance intelligence goes beyond traditional data enrichment, providing unique, real-time solutions at all stages of the insurance lifecycle and delivering a significant pricing advantage for insurance businesses.