The UK's first ever address-level air pollution dataset was launched by the Central Office of Public Interest (COPI) on 17th March 2021, making available unique new Air Quality Reports for every address in the UK.
As widely reported by The Times, BBC and other major news outlets in recent days, these Air Quality Reports are available free to the public at www.AddressPollution.org and provide the levels of three toxic pollutants – PM2.5, PM10 and NO2 – at any given address, with a Low, Medium, Significant, High or Very High rating, based around World Health Organization (WHO) limits.
Recent studies show an estimated 99,000 early deaths every year in the UK [1] are attributable to dirty air and nearly 8m UK addresses [2] exceed the WHO limits. The new rating system is based on 1.5 billion data points generated by leading air pollution experts at Imperial College London and is accurate to 20 square metres.
Now that this data is available, COPI have launched a legal campaign to make it mandatory for the property sector – and estate agents in particular – to report air pollution data to potential home buyers. Humphrey Milles, founder of the COPI, said: "Air pollution affects everyone. It is a dangerous, invisible killer. With this national roll out, it would be shameful for the property industry to not start acting in an honest, transparent way. Lives depend on it. Everyone has a right to know what they're breathing." This air pollution dataset therefore has major implications for estate agents, mortgage lenders and insurers among others.
Mark Cunningham, CEO and co-founder of WhenFresh says "It has become increasingly clear that air pollution has a major impact on people's health and, with public awareness growing and this air pollution data now being readily available, it's easy to see how this can also impact the saleability and value of properties in high pollution areas. Much like the presence of asbestos or radon, or flood risk, if data is available that may materially impact the value and/or risks associated with a property, mortgage lenders, insurers and others interested parties will want and need to understand it. Lenders certainly take any environmental issues that might impact the value of the properties they effectively co-own very seriously."
Example Report from COPI / AddressPollution.org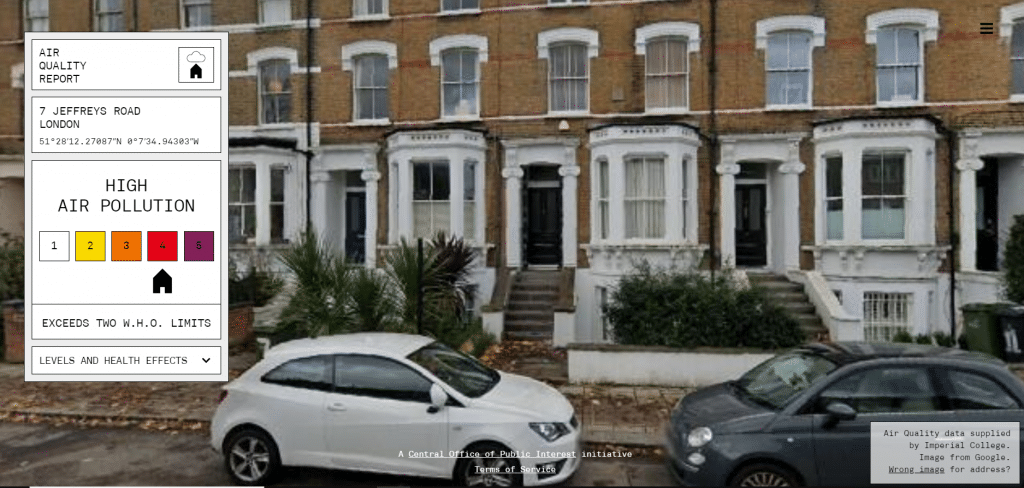 LEVELS AND HEALTH EFFECTS
Pollutant one: PM2.5 – At this address, the annual average of PM2.5 is 12.66mcg/m3. The World Health Organization limit is 10mcg/m3. This study shows 19.9% of strokes were attributed to exposure (for a year or more) of PM2.5 concentrations exceeding 10mcg/m3. PM2.5 can also cause asthma, jeopardize lung functions and promote cancer.
Pollutant two: PM10 – The reading for PM10 at this address is 21.00mcg/m3. The W.H.O. limit is 20mcg/m3. Exposure (for a year or more) to 20mcg/m3 leads to increased risk of total, cardiovascular and diabetes mortality. Exposure to PM10 also affects lung development in children.
Pollutant three: NO2 – The reading for N02 at this address is 31.56mcg/m3. The W.H.O. limit is 40mcg/m3. However, exposure (for a year or more) to 30mcg leads to a 5.5% increased risk of disease related mortality.
---
To find out more about accessing the COPI Air Pollution data for commercial use via WhenFresh and/or all the property attribute, risk, peril, topological, geospatial, environmental, climate, market and valuations data now available via the UK's "Residential Property Data Supermarket", the WhenFresh API, please call us on 020 7993 5818 or complete our short enquiry form.
References
[1] "Global mortality from outdoor fine particle pollution generated by fossil fuel combustion: Results from GEOS-Chem", Science Direct, April 2021, https://www.sciencedirect.com/science/article/abs/pii/S0013935121000487#abs0015
[2] "addresspollution.org data analysis", Central Office of Public Interest, March 2021.